On Wednesday we told you about the history of the Christmas tree well today is the legend of the Christmas spider and the history of Tinsel and Lights. AMERiders loves finding these interesting stories for you every holiday.
Tinsel and The Legend of the Christmas Spider
Tinsel was also created in Germany, where it was originally made from thin strips of beaten silver. But when plastic/man-made tinsel was invented, it became very popular as it was much cheaper than real silver and also lighter to go on the tree!
There are also folk stories about how tinsel was created – by The Christmas Spider!
These tales seem to have started in Eastern Germany, Poland, or Ukraine but are also told in parts of Finland and Scandinavia. The stories are now also popular in other countries such as the USA; although I live in the UK and most people in my country have never heard of the story/legend!
All the versions of the story involve a poor family who can't afford to decorate a Tree for Christmas (in some versions the tree grew from a pine cone in their house, in others the family have bought a tree into the house). When the children go to sleep on Christmas Eve a spider covers the tree in cobwebs. Then on Christmas morning the cobwebs are magically turned into silver and gold strands which decorate the tree!
Some versions of the story say that it's the light of the sun which changed the cobwebs into silver and gold but other versions say it's St Nicholas / Santa Claus / Father Christmas / das Christkind which made the magic happen.
In parts of Germany, Poland, and Ukraine it's meant to be good luck to find a spider or a spider's web on your Christmas Tree. Spider's web Christmas Tree decorations are also popular in Ukraine. They're called 'pavuchky' (which means 'little spider') and the decorations are normally made of paper and silver wire. You might even put an artificial spider's web on your tree!
Christmas Tree Lights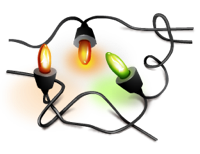 There are a few different claims as to who invented popularized the first strings of 'electric' Christmas Tree lights. In 1880, the famous inventor Thomas Edison put some of his new electric light bulbs around his office. And in 1882 Edward Johnson, who was a colleague of Edison, hand-strung 80 red, white and blue bulbs together and put them on his tree in his New York apartment (there were two additional strings of 28 lights mounted from the ceiling!).
In 1890 the Edison company published a brochure offering lighting services for Christmas. In 1900 another Edison advert offered bulbs which you could rent, along with their lighting system, for use over Christmas! There are records in a diary from 1891 where settlers in Montana used electric lights on a tree. However, most people couldn't easily use electric tree lights at this time as electricity wasn't widely installed in homes. But rich people liked to show off with lights installed just for Christmas, this would have cost about $300 per tree then, more than $2000 money today!
Electric tree lights first because widely known in the USA in 1895 when President Grover Cleveland has the tree in the White House decorated with lights as his young daughters liked them! The tradition of the National Christmas Tree on the White House lawn started in 1923 with President Calvin Coolidge.
The first commercially available electric string of lights, which more people could afford, were advertised in 1903 when a string of 24 lights cost $12 or you could rent lights from $1.50. This was still quite expensive, but much cheaper than $300.
Another claim to the first widespread sale of strings of lights comes from Ralph Morris, an American telephonist. In 1908, he used telephone wire to string together small bulbs from a telephone exchange and decorated a table top tree with them. Leavitt Morris, the son of Ralph, wrote an article in 1952 for the Christian Science Monitor, about his father inventing Christmas Tree lights, as he was un-aware of the Edison lights.
In 1885 a hospital in Chicago burned down because of candles on a Christmas Tree. In 1908 insurance companies in the USA tried to get a law made that would ban candles from being used on Christmas Trees because of the many fires they had caused. However, people still used candles to light Christmas Trees and there were more fires.
In 1917, a fire from Christmas Tree candles in New York, gave a teenager called Albert Sadacca an idea. His family came from Spain and made novelty wicker bird cages that lit up. Albert thought of using the lights in long strings and also suggested painting the bulbs bright colors like red and green. In the following years, he and his brothers formed the NOMA Electric Company, which became a very famous name in Christmas lights (I've actually got some old NOMA lights in my Christmas decorations!)
The most lights lit at the same time on a Christmas tree is 194,672 and was done by Kiwanis Malmedy / Haute Fagnes Belgium in Malmedy, Belgium, on 10 December 2010!
Many towns and villages have their own Christmas Trees. One of the most famous is the tree in Trafalgar Square in London, England, which is given to the UK by Norway every year as a 'thank you' present for the help the UK gave Norway in World War II. The White House in the USA has had a big tree on the front lawn since the 1920s.
The record for the most Christmas trees chopped down in two minutes is 27 and belongs to Erin Lavoie from the USA. She set the record on 19th December 2008 on the set of Guinness World Records: Die GroBten Weltrekorde in Germany.
Artificial Christmas Trees really started becoming popular in the early 20th century. In the Edwardian period Christmas Trees made from colored ostrich feathers were popular at 'fashionable' parties. Around 1900 there was even a short fashion for white trees – so if you thought colored trees are a new invention they're not! Over the years artificial trees have been made from feathers, papier mâché, metal, glass, and many different types of plastic.
The tallest artificial Christmas tree was 52m (170.6ft) high and was covered in green PVC leaves!. It was called the 'Peace Tree' and was designed by Grupo Sonae Distribuição Brasil and was displayed in Moinhos de Vento Park, Porto Alegre, Brazil from 1st December 2001 until 6th January 2002.
In many countries, different trees are used as Christmas trees. In New Zealand, a tree called the 'Pohutakawa' that has red flowers is sometimes used and in India, Banana or Mango trees are sometimes decorated.
So enjoy decorating your Christmas Trees.
~And as always…
~Live Free Ride Hard~
~AMERiders
and
Let AMERiders keep you up to date with information on the Christmas, Tinsel, and Lights and the Legend of the Christmas Spider.
And as always don't forget to send us your stories, pictures, and events for posting to GALLERY.AMERIDERS @ GMAIL.COM and we will post them for you. The more people that know about your event the better and we are offering free advertising. We would also love to hear about your rides and love to see those bikes so send those stories and pictures.
Like what you just read? Share it on social media ( Facebook, Twitter, Pinterest, Google+, and Instagram) with others and let them get the information and benefit from it as well.